Skip to end of metadata
Go to start of metadata
Release Notes
See below for more information associated with the most recent Zoola releases and enhancements. Older release notes are displayed at the bottom of the page.
---
March 2019 Release
Zoola Enhancements
NEW REPORT:  Schedules Overview Report - Zoola now features a number of different scheduling methods (Zoola Scheduler, Zoola Block Scheduler, Event Scheduler), which can be used to send out LMS reports. To help manage these different schedules and see them all in one place we have created a new Schedules Overview Report. This report allows you to see all the schedules that have been created across the different scheduling methods available through Zoola.

The report shows schedule type, the user that created the schedule, and information about the schedule itself, including the name, last run, next run and status. The report features hyperlinks for the User, Schedule Name & Report Name fields so you can us the report as a navigation tool and go directly to the report or specific schedule settings. This report is available to Zoola admins and can be accessed by visiting Reports > View Existing within Zoola.
Please Note: In order for the Schedules Overview Report to function correctly, the latest versions of the Zoola and Zoola Reports blocks (7.1.0.14) should be installed on the LMS.
Zoola Plugins
ENHANCEMENT: Zoola Block Self-Connection Test & Registration - To help with the Zoola installation process we have now introduced a new feature to the Zoola block, which allows for the data connection between the LMS and Zoola to be tested directly from the block. This functionality was previously available through a service included on the Zoola site. We have now moved this workflow into the block streamlining the connection test and registration process.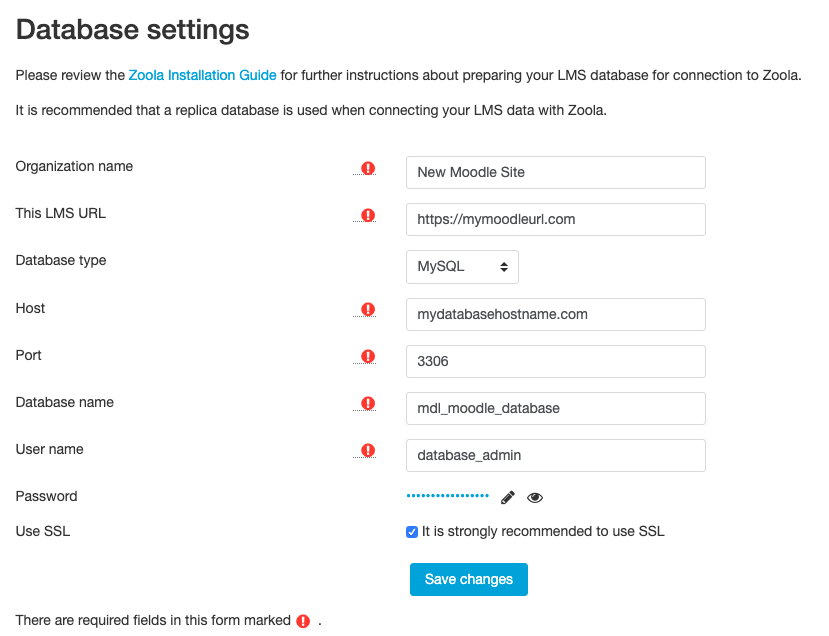 If you have not already connected Zoola to the LMS, this screen can be used to test your database connection and register your LMS on Zoola using the connection test form. If your Zoola connection is already active, the connection test form will show your current connection settings and allow you to edit them as necessary.
The connection test is available through a new Database settings menu that allows you to enter in your database connection information. This can be accessed by visiting Site Administration > Plugins > Blocks > Zoola > Database settings within your Moodle or Totara site.
Fixes
BUG:  Font files are being downloaded every time a report loads - In January we introduced a new font to address an issue associated with exporting reports with Chinese Characters to PDF. This font resolved the PDF export issue, but meant that the new font had to be downloaded each report load, even if Chinese characters were not being used. We have now resolved this issue so that the Chinese character compatible font is only used during the PDF export and is not downloaded during report rendering. All other report loads or exports will use the original compatible font.
BUG: Zoola block & Zoola Reports block not installing on Moodle 3.5.5 and 3.6.3 - On the most recent versions of Moodle (3.5.5 and 3.6.3) the Zoola block and Zoola Reports block was failing to install/upgrade. This issue has now been resolved so that the blocks will install without error.
Documentation
UPDATE: Update the Zoola Installation Guide to reflect new Self-Connection test workflow - We have now updated the Zoola Installation guide to reflect the changes to the Self-Connection test, which can be performed through the Zoola block. The updated documentation can be found here.
---
February 2019 Release
Zoola Enhancements
NEW DATASOURCE: Optimize the Moodle/Totara Log Data Source - Many Zoola customers are looking to see usage information associated with their LMS, including site logins, course actions and site modifications. The most common location for this information is stored within the Moodle or Totara Log (mdl_logstore_standard_log), which holds all the information associated with LMS events. As this database table captures a lot of event based information, it is constantly growing and as a result, it is almost always the largest database table within the LMS.

To help with the performance of Ad Hoc Views or Reports that utilize the Moodle or Totara Log information we have created a new Moodle/Totara Log Lite Data Source, which limits the amount of log data that is displayed to only the last 12 months. This data source can be modified if you require the time restriction to be expanded or reduced further. You can find the new data source by visiting Data Sources > View Existing or using it as part of a new Ad Hoc View.

UPDATE: Optimise the Files Data Source for better performance - In addition to creating a new optimized version of the Moodle/Totara Log Data Source, we have also optimized another Zoola data source that potentially contains large subset of LMS data. The Files Data Source was created to show all the different files (.pdf, .doc, .xls, .png, .jpg, .mp4) that are stored within the LMS, and due to the number of files can grow quite large. To aid performance of this data source we have made some modifications to this data source that make it load and retrieve information much faster. You can access this data source by visiting Data Sources > View Existing or using it as part of a new Ad Hoc View.

ENHANCEMENT: Add Public and Private artifact filtering - To help find Public and Private Zoola artifacts (Data Source, Ad Hoc View, Report or Dashboard) more effectively we have included a new artifact filter option. This filter is accessed from the filters menu on the left of the View Existing screen associated with Data Sources, Ad Hoc Views, Reports and Dashboards (see below).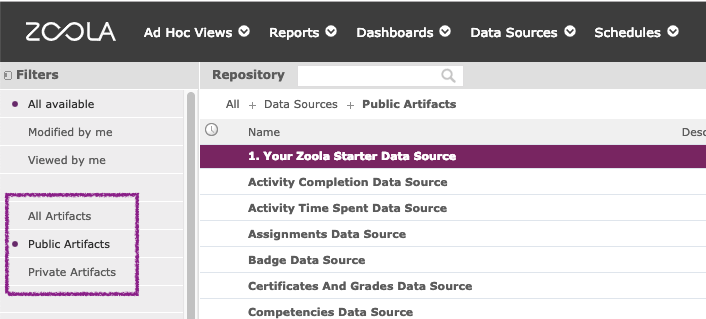 Zoola Plugins
ENHANCEMENT: Set end date/number of occurrences for Zoola Reports block repeated schedules - The Zoola Reports block scheduler includes the option to repeat schedules on a daily, weekly or monthly basis. To further enhance this functionality , the Zoola team have introduced a Schedule end option that allows for repeating schedules to stop after a defined length of time. Schedules can be repeated until a specific date or number of schedule occurrences has been completed.





ENHANCEMENT: Make reports block events available in the LMS logs - To help tracking of Zoola and Zoola Reports blocks events, including adding/removing blocks, as well as the creation, deletion and triggering of Zoola Reports Block schedules and event schedules, the LMS will now track these events within the LMS log. LMS admins can now use the LMS log to view these Zoola events, and navigate to the block/schedule location by clicking on the Event context or Event name link provided in the log entry.

ENHANCEMENT: Allow Site Admins to see all schedules associated with a Zoola Reports block instance - Each Zoola Reports block can have a number of different schedules associated with the users that have access to the block. To help Site Administrators navigate these views and see all schedules that are configured for a particular Zoola Reports block, we have included a new View all user schedules link that allows the admin to toggle between only their own block schedules and all user schedules. By clicking the link, the admin is able to view, edit and delete all schedules within the Zoola Reports block.

User view - Toggle to Admin view by clicking the View all user schedules link




Admin view - Toggle back to User view by clicking the View only my schedules link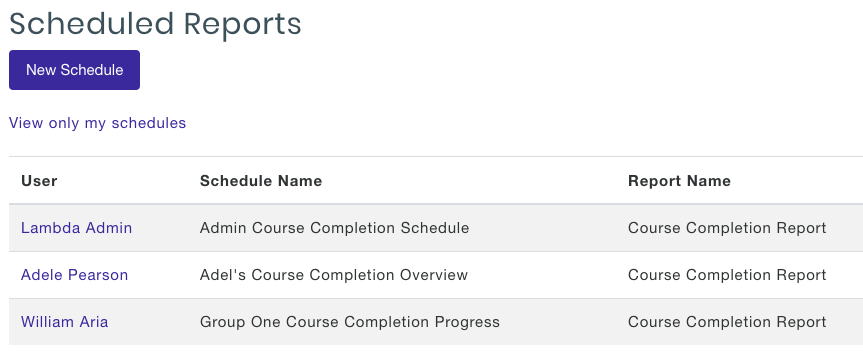 Accessing the latest Zoola enhancements
All the updates and enhancements that are listed in the above release notes are now available for use within the Zoola server and the Zoola LMS plugins. Zoola server enhancements are applied automatically to Zoola instances and be accessed immediately by all users.
Zoola Plugin enhancements can be accessed by installing the latest version of the plugins on the LMS. Lambda Solutions' Moodle & Totara LMS hosted customers can take advantage of these plugin updates immediately as the enhancements have been automatically installed onto your LMS site. For externally hosted Zoola customers, please visit http://downloads.zoola.io/zoola-bundle-latest.zip to get the latest version of the Zoola plugins.
---
January 2019 Release
Zoola Enhancements
NEW REPORT: User Badge Overview Report - To help with the tracking and reporting of badges issued through Moodle and Totara LMS, the Zoola team has built a new Badge Data Source, which combines badge, user and course information into a single data source. In addition to this, the Zoola team have built an User Badge Overview Ad Hoc View and Report, which can be used to see basic badge information within the LMS. You can access these new Zoola artifacts by visiting View Existing under the Data Sources, Ad Hoc Views or Reports menu items.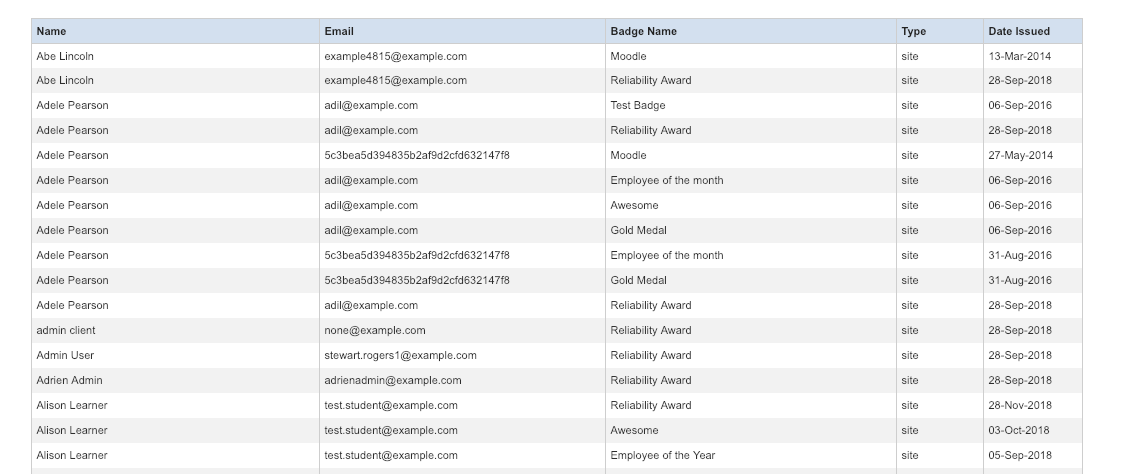 UPDATE: Update Totara 9 Users and Courses Data Source to utilize Job Assignments functionality - The Users and Courses Data Source was previously built to use the old Totara 2.9 method of showing a user's position and manager. This data source has now been updated to utilize the Job Assignment functionality that was introduced in Totara 9.
COMPATIBILITY: Totara 12 - Zoola has been updated and tested with Totara 12

Zoola Plugins
ENHANCEMENT: Add Course Completion filters to Event Scheduler - Over the last few releases we have been making enhancements to the Zoola Reports block Event Scheduler, which allows for reports or messages to be sent by Zoola when particular events take place within the LMS. We have now further enhanced this functionality to allow for specific event filters to be applied to the Course Completion event. This allows for greater control over the reports and messages that should be sent when specific courses have been completed.
When you access the Event Scheduler (Site Administration > Plugins > Blocks > Zoola Reports), create a New Event Schedule and choose the "Core: User completed course" as the event type, two additional filtering options will become available. 
Select Courses - Allows the admin to restrict the event trigger so that reports/messages are only sent for specific courses.

Select Groups - Allows the admin to restrict the event trigger so that reports/messages are only sent for specific groups within course. The group selection options will display according to the course(s) that have been selected.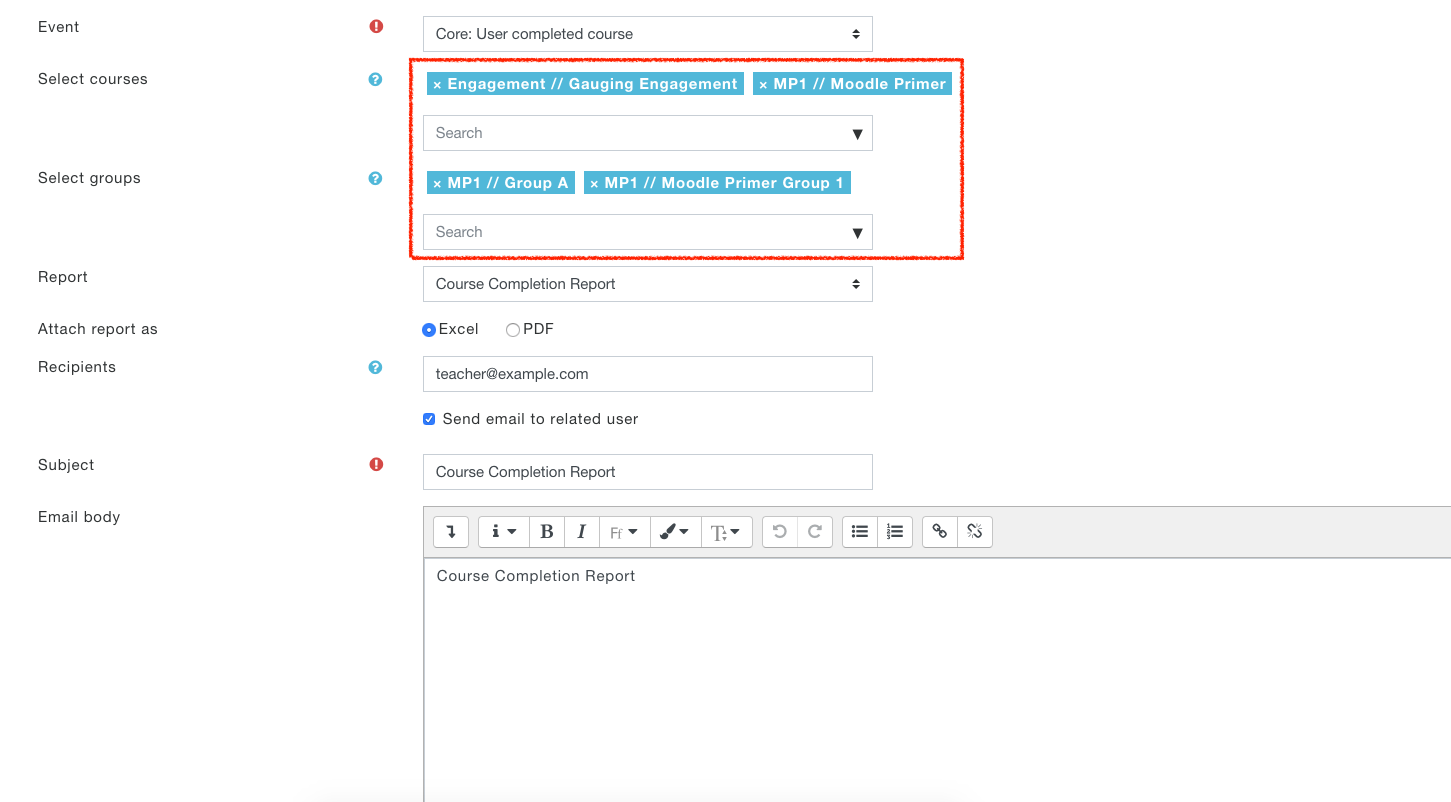 Schedules created with these settings applied will now only send reports or messages to the users associated with specific courses or groups, as they appear in the course completion event. For more information on the Event Scheduler and its usage, please visit the Case Study: Using the Zoola Reports Block Event Scheduler walkthrough for a more in depth explanation.
ENHANCEMENT: Pass Localization information to Zoola Reports Block Schedules ("Send as Email" button, Block Schedule and Event Schedule) - The Zoola Reports Block has now been enhanced so that the localization/language information is used when using the block's email sending functionality.
For the Export to PDF, Export to Excel and Send as Email buttons in the Zoola Reports block the user's current session language selection is used to perform the localization.This language selection is either based on the user's preferred language selection (located in the user's profile) or based on their session language settings, which is usually controlled through the user menu or LMS header.
For Block Schedules (available by clicking Scheduled Reports in the Zoola Reports Block) or Event Schedules the exports are based on the user's preferred language selection only.

Fixes
BUG: LocalizeLanguage Ad Hoc View function not performing translation when data viewed in Report or exported/scheduled - We have identified an issue with the LocalizeLanguage function which is used to perform language translation in Zoola Ad Hoc Views based on the the Multi-Language tag functionality in Moodle/Totara. This function worked as expected with Ad Hoc Views, but when using a Report or exporting/scheduling to the data the LocalizeLanguage translation was not being performed. This issue has now be resolved on zoola.io and eu.zoola.io so that Ad Hoc Views, Reports, exports, schedules and Zoola Reports Block functions all apply the appropriate language localization.
BUG: Exporting to PDF (Ad Hoc View, Report and Scheduler) does not show Chinese characters - We have identified an issue with the PDF export function within Zoola, which prevented Chinese characters from appearing within the exported views. This issue has been resolved by updating the font associated with the exports. For PDF exports and report views we are now using the Arial font to display text, which is compatible will all standard and special language characters. 
BUG: Modal Issue with Time Tracker plugin when using the Moodle RemUI Theme - We have identified an issue when using the Lambda Time Tracker (local_lambda_time_tracker) with the Edwiser RemUI theme for Moodle where if a Time Tracker interrupt is triggered (user does not interact with LMS for longer than specified time) the LMS screen becomes unresponsive. Lambda have identified the fix for this this and informed Edwiser, the RemUI theme developers, to incorporate into a future version of the theme. To manually fix this issue you can add the following CSS rule to the RemUI theme, Custom CSS area (Site Administration > Appearance > Themes > Edwiser RemUI > General Settings > Custom CSS).
Documentation
UPDATE: We have updated the Case Study: Cascading Input Controls documentation to include a link to the Create Input Control workflow within Zoola, which will make creation of the Input Controls used in this workflow easier to perform. 
---