Skip to end of metadata
Go to start of metadata
February 2019 Release
Zoola Enhancements
NEW DATA SOURCE: Optimize the Moodle/Totara Log Data Source - Many Zoola customers are looking to see usage information associated with their LMS, including site logins, course actions and site modifications. The most common location for this information is stored within the Moodle or Totara Log (mdl_logstore_standard_log), which holds all the information associated with LMS events. As this database table captures a lot of event based information, it is constantly growing and as a result, it is almost always the largest database table within the LMS.

To help with the performance of Ad Hoc Views or Reports that utilize the Moodle or Totara Log information we have created a new Moodle/Totara Log Lite Data Source, which limits the amount of log data that is displayed to only the last 12 months. This data source can be modified if you require the time restriction to be expanded or reduced further. You can find the new data source by visiting Data Sources > View Existing or using it as part of a new Ad Hoc View.

UPDATE: Optimise the Files Data Source for better performance - In addition to creating a new optimized version of the Moodle/Totara Log Data Source, we have also optimized another Zoola data source that potentially contains large subset of LMS data. The Files Data Source was created to show all the different files (.pdf, .doc, .xls, .png, .jpg, .mp4) that are stored within the LMS, and due to the number of files can grow quite large. To aid performance of this data source we have made some modifications to this data source that make it load and retrieve information much faster. You can access this data source by visiting Data Sources > View Existing or using it as part of a new Ad Hoc View.

ENHANCEMENT: Add Public and Private artifact filtering - To help find Public and Private Zoola artifacts (Data Source, Ad Hoc View, Report or Dashboard) more effectively we have included a new artifact filter option. This filter is accessed from the filters menu on the left of the View Existing screen associated with Data Sources, Ad Hoc Views, Reports and Dashboards (see below).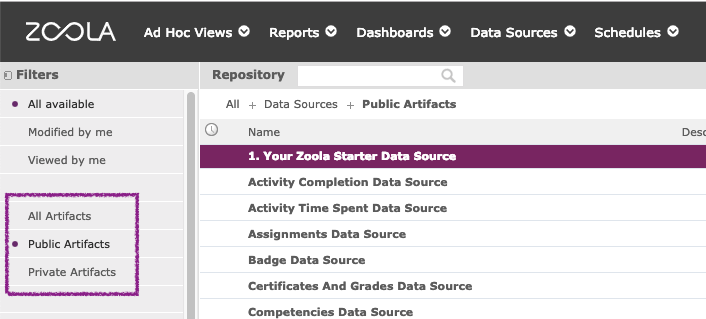 Zoola Plugins
ENHANCEMENT: Set end date/number of occurrences for Zoola Reports block repeated schedules - The Zoola Reports block scheduler includes the option to repeat schedules on a daily, weekly or monthly basis. To further enhance this functionality , the Zoola team have introduced a Schedule end option that allows for repeating schedules to stop after a defined length of time. Schedules can be repeated until a specific date or number of schedule occurrences has been completed.





ENHANCEMENT: Make reports block events available in the LMS logs - To help tracking of Zoola and Zoola Reports blocks events, including adding/removing blocks, as well as the creation, deletion and triggering of Zoola Reports Block schedules and event schedules, the LMS will now track these events within the LMS log. LMS admins can now use the LMS log to view these Zoola events, and navigate to the block/schedule location by clicking on the Event context or Event name link provided in the log entry.

ENHANCEMENT: Allow Site Admins to see all schedules associated with a Zoola Reports block instance - Each Zoola Reports block can have a number of different schedules associated with the users that have access to the block. To help Site Administrators navigate these views and see all schedules that are configured for a particular Zoola Reports block, we have included a new View all user schedules link that allows the admin to toggle between only their own block schedules and all user schedules. By clicking the link, the admin is able to view, edit and delete all schedules within the Zoola Reports block.

User view - Toggle to Admin view by clicking the View all user schedules link




Admin view - Toggle back to User view by clicking the View only my schedules link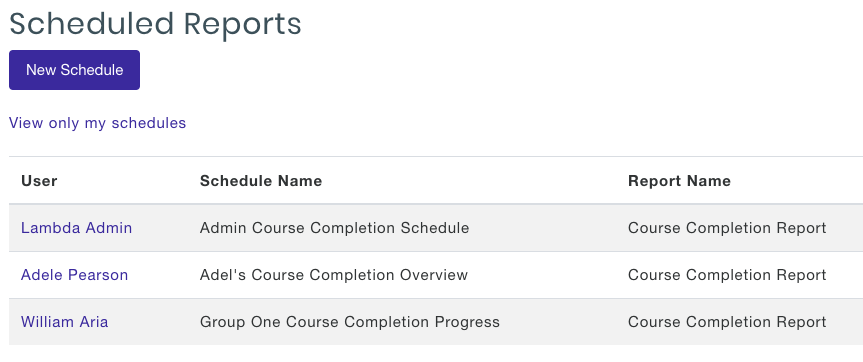 Accessing the latest Zoola enhancements
All the updates and enhancements that are listed in the above release notes are now available for use within the Zoola server and the Zoola LMS plugins. Zoola server enhancements are applied automatically to Zoola instances and be accessed immediately by all users.
Zoola Plugin enhancements can be accessed by installing the latest version of the plugins on the LMS. Lambda Solutions' Moodle & Totara LMS hosted customers can take advantage of these plugin updates immediately as the enhancements have been automatically installed onto your LMS site. For externally hosted Zoola customers, please visit http://downloads.zoola.io/zoola-bundle-latest.zip to get the latest version of the Zoola plugins.