Skip to end of metadata
Go to start of metadata
December 2018 Release
Zoola Enhancements
ENHANCEMENT: Update "Activity Completion Table Report" to include actual Activity Name from block_zoola_module_names table - The "Activity Completion Table Report" was built using a old method for gathering the specific activity module names. We have now updated the data source, ad hoc view and report to use the block_zoola_module_names table, which dynamically collects all the activity names.
ENHANCEMENT: Disable saving files to repository by default within the Zoola Scheduler - To prevent reports and other files from being automatically saved within Zoola when using the scheduler, we have now disabled the "Output to Repository" option by default. New schedules created within Zoola will have this setting disabled, but it can still be enabled if necessary.
ENHANCEMENT: Add Created Date sort of to artifact views - In addition to the standard "Name" and "Modified Date" sort options, we have now included "Created Date" as a new sort option. This sort option can be selected from the top navigation menu when selecting View Existing under Ad Hoc Views, Data Sources, Reports or Dashboards. 
ENHANCEMENT: Add sort order direction options - As well as the addition of the "Created Date" sort option, we have also added the ability to sort by "Name", "Modified Date" or "Created Date" in ascending and descending order. These sort options can be selected from the top navigation menu when selecting View Existing under Ad Hoc Views, Data Sources, Reports or Dashboards. 

ENHANCEMENT: Remember sort by selection when navigating Zoola - To help make navigation more consistent, we have now made Zoola remember the sort options that a user has selected within a given Zoola session. Now, if you apply a "Name" with a descending sort option, the setting will be remembered throughout your Zoola session until you log out of the reporting interface or your session times out. These sort options will remain in place across the different Zoola menus and artifacts, saving you from having to click the sort option every time you search for a report ad hoc view or data source.
ENHANCEMENT: Add more Ad Hoc View Date options - To accommodate our different customers and their date preferences, we have expanded the number of date formats that are available through the Ad Hoc View editor. This now includes all the common numerical and text date formats.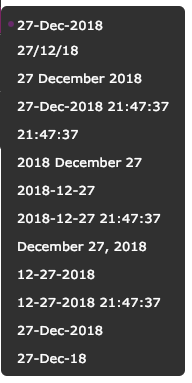 COMPATIBILITY: Moodle 3.6 - Zoola has been updated and tested with Moodle 3.6
Zoola Plugins
ENHANCEMENT: Make navigation icons consistent across the different views (report, dashboard) - To make the navigation experience more consistent across the different Zoola views within the LMS, we have now updated the navigation icons used when viewing reports within the Zoola Reports block. These icons have been updated to make them consistent with those used within Zoola Dashboards.

ENHANCEMENT: Update default export type within Zoola Reports block - the Zoola Reports block allows reports to be embedded directly within the LMS, but it can also be used to export report information to either Excel or PDF format. As Excel is frequently used to further process LMS data, we have now updated a number of different Zoola screens so that Excel exports are now selected by default (previously the default was PDF). 
Event Scheduler version 2
In this release we have made significant improvements to the Zoola Report block Event Scheduler, so that it can be used across a variety of different LMS event types. The Event Scheduler is a Report block function that allows for Zoola reports to be sent when specific LMS events take place. With this release we have made the following improvements:
ENHANCEMENT: Add more event scheduler events that can be selected -  The first improvement we made was to include more LMS events into the Event Scheduler so that reports and messaging can be triggered across a variety of site events. The events list has been expanded to include the majority of the common events available within Moodle and Totara.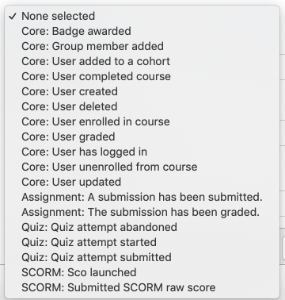 ENHANCEMENT: Ability to create multiple event scheduler triggers - The next improvement we made to the Event Scheduler was to allow for multiple event schedules to be created. To allow for this, the Event Scheduler interface has been significantly upgraded to include an event schedule management screen, where you can create, edit, delete and see further information about all the current event schedules. Multiple schedules can now be created through this workflow, allowing you to setup specific event schedules for the different events that take place in your LMS.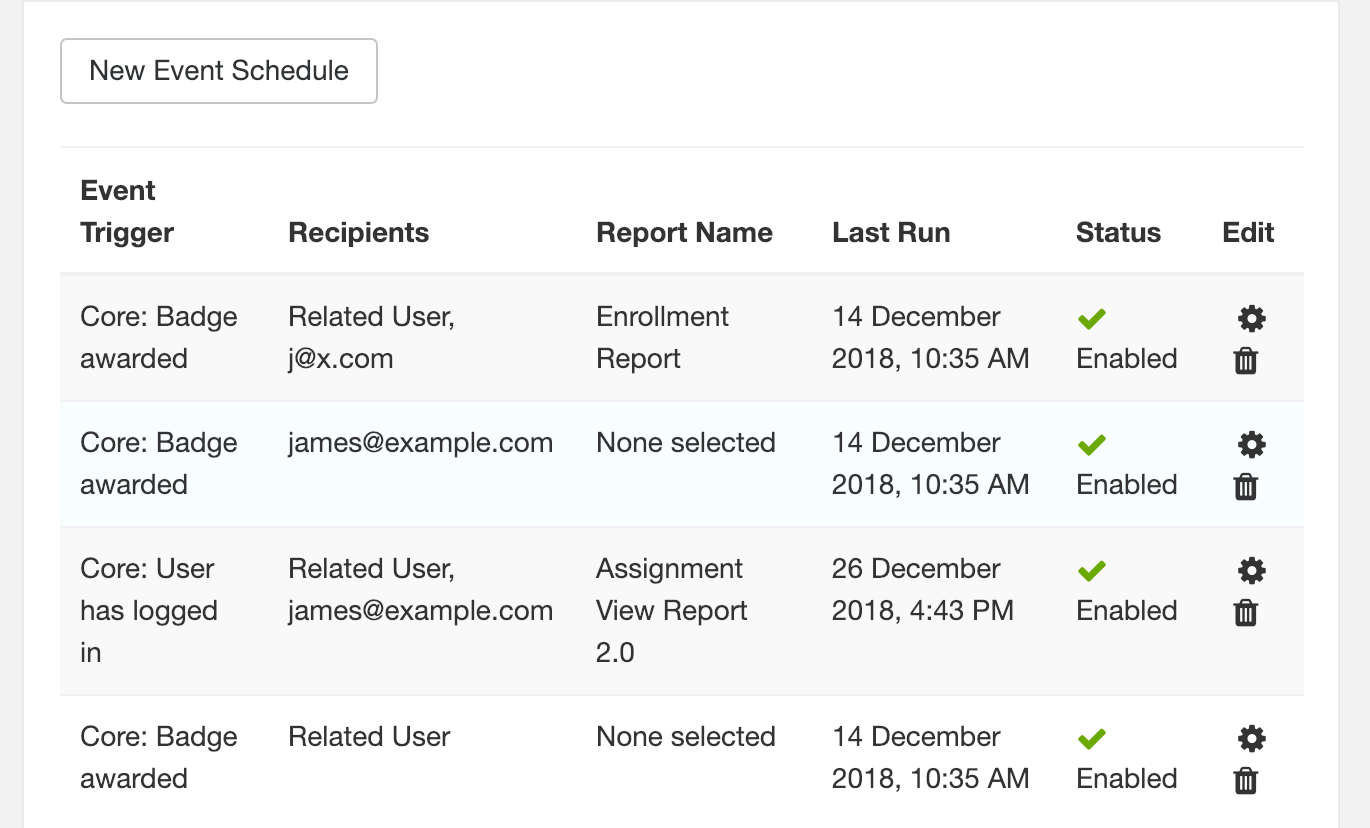 ENHANCEMENT: Email only option for Event Scheduler - The final enhancement we made was to allow for an email only event schedule to be created. After the first version of the Event Scheduler, our customers identified that being able to send only an email (no report) when an event took place would be highly desirable functionality. Based on this requirement, we have now included the ability to create an event scheduler without the need of including a report. This will allow administrators to create event schedule notifications that trigger when specific site wide events take place, better informing admins and other users about the usage of the LMS.
This new Event Scheduler functionality will allow for more automated notifications and reports to be sent from the LMS when specific site or course events take place. There are still many other features that we plan to add to this functionality to make the event trigger functionality even better. You can start using this functionality by visiting Site Administration > Plugins > Blocks > Zoola Reports > Event Scheduler Settings.
Fixes
BUG: Fixed linking from dashboard into new page/replace page - When using a dashboard hyperlink to link from a chart to another report within Zoola, non Zoola admin users were being prevented from accessing the linked to report, even though the report was accessible if they accessed it directly (without using a hyperlink). This issue has now been resolved.
BUG: Update Totara 9 Course Wait List Table View and Course Wait List Chart View to use new Seminar data source - The Course Wait List Table View and Course Wait List Chart View were connected to public data sources that were no longer available to users. This issue has now been resolved.

Documentation
ENHANCEMENT: Document a derived table to add cohorts to a Data Source - We have created a new Case Study within the Zoola help documentation that explains how to add cohort or audience information to a new data source. This guide can be found here